Within this section there are applications and media managed by Google Play.
By selecting the blue "+" button at the top right of the screen, you can add new apps to the list, while the button with the two arrows allows you to update the synchronization with Google Play.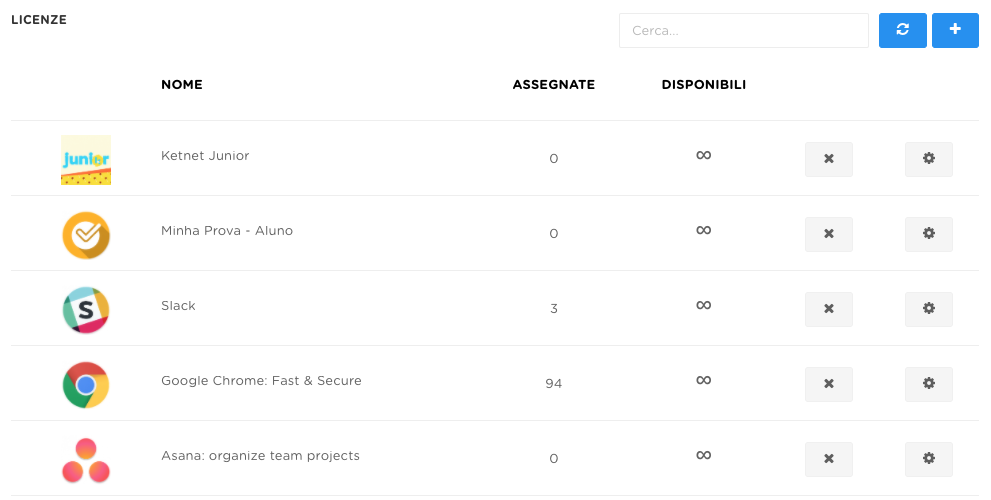 The page is divided in five columns:
the first one shows the icon and name of the application
in the "Assigned" column you will find the number of applications assigned to devices
in the "Available" columns you will find the number of available applications (useful if they are paid applications, you can easily see how many are left over, if the infinity symbol is displayed it means there is no limit)
button through which we delete the corresponding application from the list
button to have access to the settings related to the selected application

"Assigments" tab with the list of entities (devices or Google Workspace accounts) assigned to the app license
"Bazaar Assignments permissions" tab gives the way to define permissions to assign automatically the license inside %chimpaBazaarName% app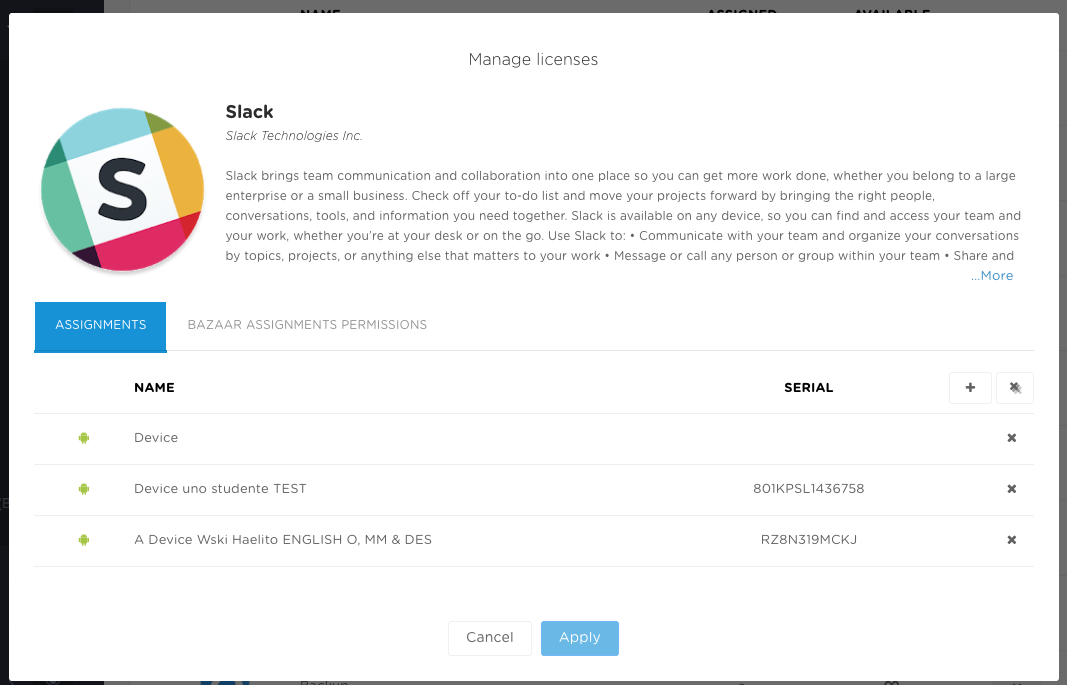 From the Assgments list it is possible to see with which devices the application is associated, you can add devices/serial numbers with the "+" button, "X" on the top to remove all the assigments and "x" on every item in the list to delete the single entitlement.
Approve an app
Click on the '+' button [a] to launch the Google Play window. Type in the search field [b] the name of the app you want to insert in the list of default apps and, from the list of apps that will be proposed, select the one you want [c].

Click on the 'APPROVE' button [a], 'SAVE' [b] and 'SELECT' [c] on subsequent screens.

Following the same procedure, it will be possible to define the list of the App. It is possible to see under the 'ASSIGNED' column the number of licenses activated, while under the column 'AVAILABLE' will be displayed the licenses that are still free. In case of free Apps, the infinity symbol (∞) indicates an unlimited number of licenses available for that specific App.
References